Cleaning a beauty blender only takes a few minutes with the right tools. In this post, I will share my beauty blender cleanser secrets as well as tips for cleaning makeup tools to make life easier.
This post may contain affiliate links, which means I'll receive a commission if you purchase through my links (at no extra cost to you). I only promote products I've tried and love. As an Amazon Associate I earn from qualifying purchases.
How to Clean a Beauty Blender
Properly cleaning a beauty blender is an important part of your beauty routine. Using clean tools is a healthy habit that keeps your tools in shape. You can easily keep your tools clean whether you are traveling or at home.
Recommendation: Clean your beauty blender as often as once per day after applying your makeup to prevent buildup.
Beauty Blender Cleanser Techniques
There are many products designed to clean beauty blenders. If you don't have these at home using a gentle cleanser will also remove the makeup residue from your beauty blender. The following are effective for removing makeup residue:
Micellar Water or Makeup Remover
Soap or Face Wash
Beauty Blender Cleanser Soap
MICELLAR WATER-BASED CLEANSER
Micellar water is a powerful product for cleansing the skin. It is strong enough to remove makeup as well. Applying diluted micellar water to a beauty blender is an effective hack for removing makeup residue.
You won't need a lot of product because a little goes a long way. If you are traveling, using the skin care products you already have is a clever way to clean your makeup tools and maintain good hygiene.
SOAP OR MAKEUP REMOVER
Soap is an effective way to break down oil and remove makeup. If you are using a soap designed to remove oil and makeup then this will be very effective. However, hand soap or dish soap can be used to break down oil and makeup residue on a beauty sponge. A hand soap or face soap designed to remove oil from the skin is also an effective way to clean beauty blenders. Dilute with water and work a small amount into the beauty blender.
A BEAUTY BLENDER CLEANSER
There are many companies that create beauty bender cleanser soaps designed to remove makeup and debris from beauty blenders. Investing in a formula designed for beauty blenders is a good option if you are interested in having one product designated to cleaning your beauty tools.
Other Techniques for Cleaning a Beauty Blender
There are several other techniques for cleaning beauty blenders that will be covered below. You can soak your beauty blender in soapy water or you can try the methods below. Please refer to the following techniques to find one that works for you.
HOW TO CLEAN BEAUTY BLENDER WITHOUT CLEANSER
Cleaning a beauty blender without cleanser may not be as effective because there isn't a cleansing formula to support the process of removing makeup from the beauty blender. Some people prefer to clean beauty blenders with oil. However, you will need to be careful about the amount of oil you wash down your drain to prevent clogging your pipes. If you are interested in washing a beauty blender with oil, please see the following tutorial.
HOW TO CLEAN A BEAUTY BLENDER IN THE MICROWAVE
If you are interested in a hands-off method of cleaning your beauty blender, you can attempt to clean the blender by microwaving it in soapy water. This method accelerates the soaking process. However, you must be careful not to overheat you blender or dry it out.
How to Dry a Beauty Blender
Drying a beauty blender is relatively simple. Make sure to squeeze the blender several times to remove any excess water left over form the cleaning process. After you've completed this step, wrap the blender in a paper towel (or you could try a microfiber towel) to remove any moisture. Leave the blender in a dry place to air out after completing these steps.
Makeup Tool Cleansing Secrets
While you're here, let's review some makeup tool cleanser hacks that you can apply to the other makeup tools in your daily routine.
I'll share a few more simple hacks for keeping your makeup tools clean. I'll also share my tried and true recommended beauty tools.
Multitask with Makeup Remover
Did you know makeup remover is a multitasking product? You can use a makeup wipe or a few drops of a makeup remover serum to speed up cleaning process of your beauty tools.
When you clean your tools or makeup organizer, use a makeup wipe or a drop of makeup remover serum to your cleaning wipe to help you remove any product that accumulated on your makeup organizer. Keeping your beauty tools clean and organized is an important part of your beauty routine so you can find the products for your five minute makeup look before you rush off to work (or zoom) in the morning.
The Gulauri makeup organizer above has small sections for holding makeup products. Cleaning the makeup organizer with diluted makeup remover serum speeds up the process.
Use Sturdy Tools that Are Easy to Clean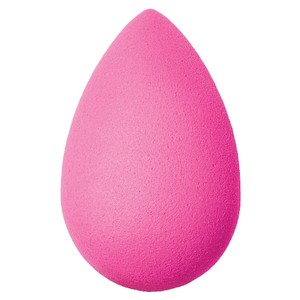 Makeup sponger that are sturdy and can withstand many washes. The small sponges are best for applying concealer and the curved edge makes the makeup application under the eyes much easier.
Eco Tools are very long lasting. You need to store them correctly or you risk bending the ends of the brushes. It's best to store these in a makeup pouch to keep the ends clean because the brushes are two-sided.
My Lamora Kabuki brush has lasted for years and it's in great condition. You can use this brush for liquid, cream or powder makeup formulas. I think it's best for applying powder formulas.
Makeup Spatty
The Makeup Spatty, an incredibly useful tool that is extremely easy to clean.
When you're almost finished with a makeup product use a Makeup Spatty instead of a makeup brush to reach the last bit of product at the bottom of the container. This prevents using brushes unnecessarily, and allows you to get the most out of your purchase.
The Makeup Spatty above is effective because it has a curved tip at the end, allowing you to get the last bit of that product out of the bottom of difficult containers.
Recap
Cleaning your makeup tools can easily become a part of your daily beauty routine. Daily cleansing promotes good hygiene and easy tips to wash your beauty tools make this process a breeze:
Micellar Water or Makeup Remover
Soap or Face Wash
Beauty Blender Cleanser Soap
Oil
Microwave Hacks
If you are in need of products to supercharge your beauty routine, you'll love 5 Clean Skin Care Tips to Supercharge Your Routine. I hope these beauty blender cleanser hacks help you and make the process of cleaning your beauty tools easier.
Save to Pinterest